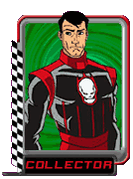 Lyle "The Collector" Owens is part of the four-car team, Team Rexcor.

Lyle was a member of Team Fastex, however because of his dirty tricks that he does as well as his fighting with Mark, Jack Fassler, the owner of Team Fastex, fired him. Even before Lyle joined Fastex, it seemed that he already had a reputation for collectiing pieces of race cars and because of this, that was how he became known as 'The Collector'. Lyle soon joined Team Rexcor and drove a red and black car with the decal #606 written on the side. His logo is a skull engulfed in flames.
Episode Appearance
Edit
Season 1 Episodes
Edit
Season 2 Episodes
Edit
Ad blocker interference detected!
Wikia is a free-to-use site that makes money from advertising. We have a modified experience for viewers using ad blockers

Wikia is not accessible if you've made further modifications. Remove the custom ad blocker rule(s) and the page will load as expected.